The Miyazaki Prefectural Art Museum was established in October 1995 with the goal of serving as a friendly and open museum for residents of the prefecture. We hope you enjoy our excellent collection of works from Japan and abroad. We also extend an invitation to all to use the museum's facilities for the exhibition of creative activities and study. As part of this effort, we present various events in order to promote public appreciation of the arts.
Exhibition
Special Exhibitions
We present exhibitions with varied content from our own collected works as well as works from outside collections.
Collection Exhibitions
Our permanent exhibitions include our collection of modern paintings and sculptures.
Educational Activity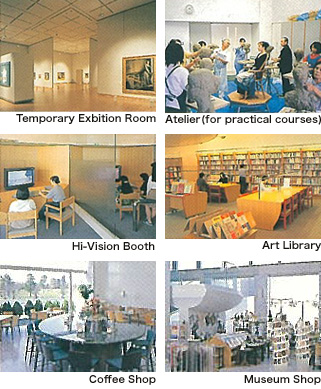 In an effort to heighten interest in and deepen understanding of art, we offer the following activities for citizens of the prefecture.
Lectures, Practical Courses & Children's Art Classes
We hold a variety of lectures on art history and other subjects in our Art Hall. Our studios are the venue for practical courses such as painting, sculpture, and children's art classes.
Art Library
Our Art Library invites you to freely enjoy reading a variety or art books. You can also submit inquiries on art consultations.
Facility Rentals
The People's Gallery is available for exhibition of your own works, and as a studio for your creative activities.