Beginnings of Kofun period research in Japan: Excavations during the Taisho period/open-air museums and parks

日本古墳時代研究のはじまり~大正期の発掘調査・風土記の丘~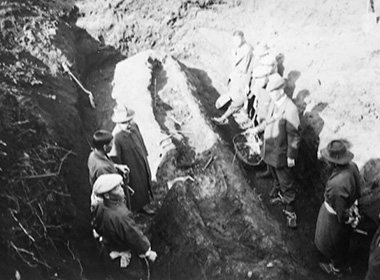 Excavations during the Taisho Period(Saitobaru Mound No.72)
 Excavations of the burial mounds at Saitobaru Kofun Group, which commenced in 1912, were the first fully-fledged excavations of a kofun group in Japan, marking the beginnings of modern scholarship on the Kofun period. However, the aim of these excavations was to verify the location of birthplace of Japan's imperial ancestors. Chuichi Ariyoshi, then Governor of Miyazaki Prefecture and a contemporary of scholars Katsumi Kuroita and Sadakichi Kita, consulted with Kyoto Imperial University's Professor Takashi Sakaguchi, and preparations commenced led by Kosaku Hamada of this university. The excavation team consisted of eminent archaeologists from key facilities at the time, including Takashi Sakaguchi, Ryu Imanishi, Sadakichi Kita, Takuji Ogawa, Sadahiko Shimada, Sueji Umehara, Naito Torajiro, Katsuro Hara, and Kosaku Hamada from Kyoto Imperial University, and Katsumi Kuroita, Joe Shibata, Yoshito Harada, and Ryuzo Torii from Tokyo Imperial University. These excavations lasted for six years and covered 30 burial mounds, including 5 keyhole-shaped burial mounds.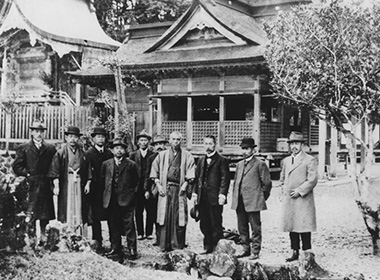 Excavations in 1912(Taisho Period)
 From the mid-1960s, the site set new ground by becoming the first component property of the government's Fudoki no Oka initiative, which brought together historical sites, especially kofun, from throughout Japan under a single umbrella, with the goal of promoting their preservation. And from fiscal year 1995, it played a pioneering role in exploring new ways to preserve and utilize historical sites as the first component property of the government's General Project to preserve Large-scale Sites. Under the Fudoki no Oka initiative, three separate conceptual zones were established when carrying out preservation work on the mounds at Saitobaru Kofun Group: "Kofun Group within a Forest," "Kofun Group amid Grasslands" and "Walking Route among Kofun." Trees were planted to create forests and landscaping work was carried out.
 In 1995, over a quarter of a century on from the initial Fudoki no Oka initiative, the next round of major preservation work took place at Saitobaru Kofun Group. The inherent purpose behind preserving and utilizing historical sites is to probe deeply into the history of each area as it presents itself in the landscape. In order to make it possible to enquire into the historical changes which have taken place, preservation work is conducted every half a century by selecting exemplary kofun and various mound shapes on which to carry out general surveys. In addition, steps are taken to ensure that the area surrounding the site is in keeping with the overall vision for other historical sites in the wider region.